English web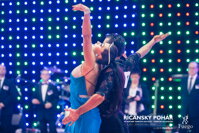 Říčany Cup - open dancesport international competion

Profesional-Amateur Competition information HERE !
Organised under the responsibility of an WDSF National Member Body - Czech Dancesport Federation (CDSF - Český svaz tanečního sportu - ČSTS)

Registration is only possible via the CDSF (CSTS.cz) webpage !! - if you need we help !!!
All categhory will start aproximetly 15-30 after end of check-in

Deadline for entry is 20.2.2020 21:59:59

Age cathegory : juvenille- junior 1+2, adults, senior
Grades : EDCBA
Dances :
Juvenile II
E - 5dances - Wa, Qs, Cc, Ji + polka !!
D - STT : Wa ,Vw, Qs, LAT : Sa, Cc, Ji
C - STT : Wa, Tg, Vw, Qs, LAT : Sa, Cc, Rb, Pd, Ji

Juniors, Adults , Seniors
E  - STT : Wa, Vw, Qs, LAT : Sa, Cc, Ji
D  - STT : Wa, Tg, Vw, Qs, LAT : Sa, Cc, Rb, Ji
CBAS  - STT : Wa, Tg, Vw, Sf, Qs, LAT : Sa, Cc, Rb, Pd, Ji

Czech competioin rules

Basic infos:

Date : 22nd and 23rd of February 2020
Adress - competition place  : Sport Hall of Říčany Town - Škroupova street 2026
Floor : 14 x 21 meter - wooden floor (in special occasion two floors 10,5x14m)
Adjudicators : at least 7 judges (czech and international )
Authorized participants : Members of national federation registered in WDSF
Starting fees:
Juvenilles -150Kč for category
Juniors - 200Kč for category
Dance For All - Synchro Duo - 200Kč for category
Adults, Seniors - 250Kč for category
Open BAS Seniors - 500 Kč for category
Spectators fees : Chidren, seniors - 50Kč, Adults - 150 Kč , Saturday evening Gala - 300Kč (table seat)

Open BAS Senior 1 categories  has prize money : 1.place - 150E, 2. place - 115E, 3. place - 77E, 4.-6. place - 39E

Friday Evening - ProAm competition - this is NOT the CSTS competition (wdsf member) - different rules !

SATURDAY

Youth (16 -18 yers) - EDC (only lat)

Adults (16-35 years) - EDC (only lat)
Senior 1 - BA
Senior 2 - B+A (only stt)
Open cup competion Senior1-2-3-4 BAS (ranking only for Czech couples) - Prizemoney !
 
(all seniors cathegory according to WDFS age categories !!)

REGISTRATION - ONLINE  on CDSF webpage !! - here Deadline for entry is 20.2.2020 21:59:59

SUNDAY

Junior 2 (14-16 yers) - EDCB

Youth (16-18 years) - EDCB+A
Adults (16-35 years) - EDCB+A
Dance For All - Synchro duo - under 18 (according Junior 1+2), under 21 (acc. Youth)

REGISTRATION - ONLINE on CDSF webpage !! - here Deadline for entry is 22.2.2020 21:59:59

Heel protectors mandatory!! Do not use water on the floor, oil is granted.

Competition is under the rules of CDSF (a WDSF member) almost everything according to WDSF rules.

CDSF has closed syllabus for grades E-D-C !! see here


In any case of need please contact us, we will gladly help You !!

As well as with the syllabus or with the registration - via the CDSF web page